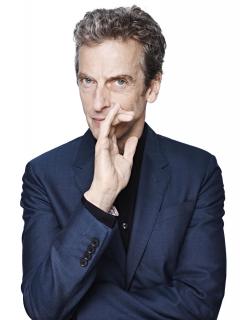 What will Peter Capaldi bring to the role of the 12th Doctor, and what does his casting mean for the show as it reaches its 50th anniversary?
If you had kept an eye on the betting odds last week it was no great surprise when actor Peter Capaldi, the bookies' favourite, was revealed to be the new star of Doctor Who in a live TV special this past Sunday.
The Glasgow-born star, best known for his sweary role in TV's The Thick of It, is replacing the current Doctor Matt Smith.
At 55, he is the oldest actor to take on the role since William Hartnell, who played the first Doctor in 1963.
"I think it's a very good choice – it's great to have an older Doctor for a change," said Mark Campbell, author of Doctor Who: The Complete Guide.
"Doctor Who thrives on change. When in the past it hasn't been quite so successful it's when they've tried to go for an actor who is similar to the one before.
"I remember when Jon Pertwee changed into Tom Baker. There couldn't have been a bigger difference between those two – and the audience built and built."
Mr Campbell said he was impressed at how Capaldi handled himself when he was unveiled as the new Time Lord.
"I thought he came across as a very humble guy. He is very aware that he is doing a job that is part of so many people's childhoods. There is no trace of arrogance or ego."
Dr Keith Johnston, a senior lecturer in film and television from the University of East Anglia, was surprised when Capaldi's name was announced.
"I assumed all the fuss around Capaldi earlier in the week was a smokescreen," he told the BBC News website. "I was shocked and overjoyed because he is a properly good actor.
"When he strode out he did that lovely lapel tugging thing which is a hint back to William Hartnell. He is a Doctor Who fan so it is possible that was a very deliberate thing.
"I thought he handled himself very well. There were tantalising little hints in there as to what his Doctor might be like."
So what qualities did he think Capaldi would bring to the role?
"Throughout the Matt Smith era there has been the idea of an old man in a young body, so I assume we'll see less of the jumping around the screen that we've had from both Smith and David Tennant.
"Perhaps Peter Capaldi will be a more contemplative, slightly sterner Doctor. But he can also do comedy so well."
What do you think? Why not drop us a line at whotopia at whotopia.ca and tell us what you think of the casting of Peter Capaldi and what might lay ahead for the twelfth Doctor?